This starts out with an excited Myspace blast from artist friend, Japi Honoo.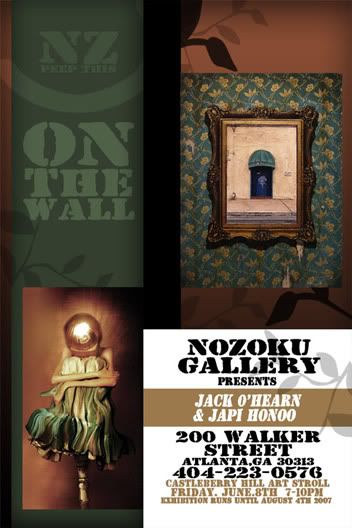 mood excited!!!!!!
Sorry for late news... but from June 8, 2007 through August 4, 2007, is start my exhibition with Jack O'Hearn in a dual show at Nozoku Gallery!!!

If some one live near Atlanta will be nice go to see my image not more in virtual mode...

this is what nozoku gallery wrote:

Jack O'Hearn and Japi Honoo will be exhibiting in Atlanta for the first time, although they are no strangers to the art scene. O'Hearn has an established national following, while Honoo has made a name for herself internationally. ... Japi Honoo sends her love from Venice, Italy, as well her imaginative digital works that subscribe to her motto, "No rules, no rationality, no prototypes: simply real, self-sufficient one-offs." Without being too dark, Honoo's work is "symbolic realities full of sensuality, surreal characters and landscapes balanced on the edge between nightmares and bliss."

This is the second time I've featured her work. Japi Honoo's vision is exactly the sort of thing I had in mind when I started Erotic Truth; a way of looking at the erotic impulse from a completely new and challenging direction. Here are a couple more examples why you should be familiar with her work. I suggest you pass this on to everyone you might know in the Atlanta area. At the very bottom, you'll find a link to her site.